Welcome
We are taking a well earned summer break – but we will be back bigger and better with our September meeting!
Next Meeting – 12 September 2016
Mock Trial – 75th Celebrations – Kizzy Augustin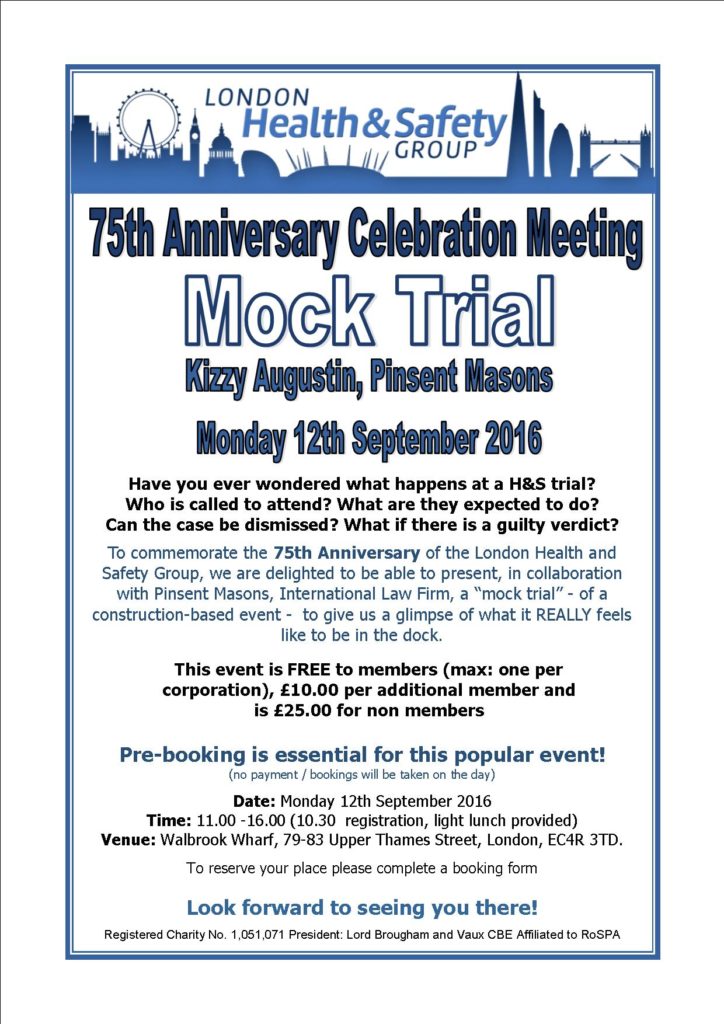 Have you ever wondered what happens at a H&S trial?
Who is called to attend? What are they expected to do?
Can the case be dismissed? What if there is a guilty verdict?
To commemorate the 75th Anniversary of the London Health and Safety Group, we are delighted to be able to present, in collaboration with Pinsent Masons, International Law Firm, a "mock trial" – of a construction-based event –  to give us a glimpse of what it REALLY feels like to be in the dock.
This event is FREE to members (max: one per corporation), £10.00 per additional member and is £25.00 for non members
Pre-booking is essential for this popular event! (no payment / bookings will be taken on the day)
Date: Monday 12th September 2016
Time: 11.00 -16.00 (10.30  registration, light lunch provided)
Venue: Walbrook Wharf, 79-83 Upper Thames Street, London, EC4R 3TD.
Tea / Coffee  from 10.30am
Meeting starts at 11.00am
See you there!
The LHSG Committee
Details of our last meeting -The Devil is in the detail at 29,000 feet – Justin Packshaw
Please Note: Meeting Dates for 2016